---
Robert Bateman
---
---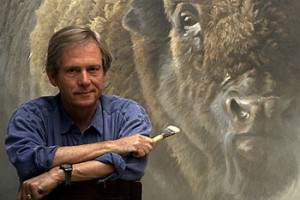 Robert Bateman is a Canadian painter and naturalist, named by the U.S. National Audobon Society as one of the 20th century's 100 champions of conservation.
Bateman grew up in Toronto with a fascination for wildlife and a love of art. He obtained a degree in geography from Victoria College at the University of Toronto and went on to teach high school art and geography. It wasn't until 1975 that he began showing his work. He had initially been influenced by the Group of Seven to paint abstract natural scenes, but soon developed the unique style of realism for which he has become internationally recognized.
Among Bateman's many environmentalist initiatives is the program Get To Know, which aims to educate youth on the natural world. The idea came out of his discovery that many children could not identify 10 local species of animals and plants but could easily identify over 1000 corporate logos.