Giveaways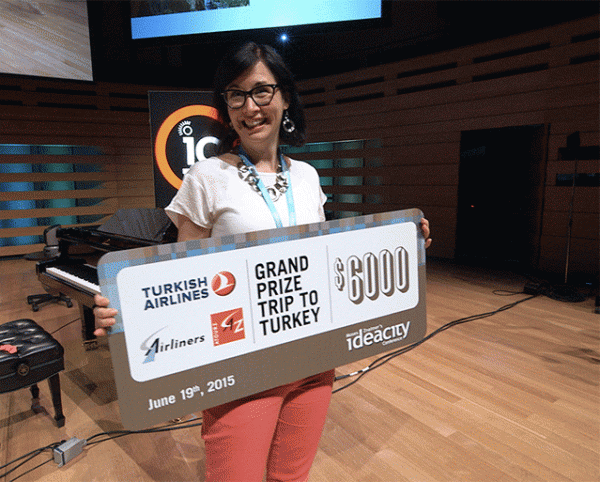 Each day at ideacity, attendees wait with bated breath to see if they are the lucky recipient of one of the conference's spectacular giveaways. From gadgets and gear, to once-in-a-lifetime travel experiences, ideacity giveaways are known for blowing attendees away with unexpected items. Our grand prize for ideacity 2016 is provided by Adventure Canada includes the following:
The Arctic Explorer trip begins in the land of the midnight sun, in the place with no dawn. After departing Qausuittuq (Resolute), we'll visit the final resting place of three members of the ill-fated Franklin Expedition at Beechey Island and search for polar bears and walrus in far north Baffin Island. In Ikpiarjuk (Arctic Bay) we will visit a vibrant, traditional community surrounded by towering cliffs and nesting habitates for seabirds, narwhals, and bowhead whales. At Mittimatalik (Pond Inlet), our hosts will welcome us with throat-singing and Inuit games, before we explore Baffin's mighty fjords. We'll seek bowhead whales in Niqinganiq (Isabella Bay)—the world's first Inuit-initiated whale sanctuary. Crossing Davis Strait, we'll encounter Greenland's stirring icescape. There, we'll marvel at Uummannaq's heart-shaped mountain, zip among the freshly calved bergs off Ilulissat in our Zodiacs, and hike around Itilleq Fjord. Spectacular Sondre Stromfjord makes a glorious finale to our trip.
Join us as we explore the far northern reaches of Nunavut and Greenland on our most culturally-focused itinerary. See what has been wrought without the hand of man, and learn about the lives carved out in some of the world's most inhospitable—yet beautiful—places.
Highlights
Call at Niqinganiq (Isabella Bay)— a bowhead whale sanctuary, the world's first Inuit-managed reserve of its kind
Marvel at the Ilulissat ice fjord, where 90% of the north Atlantic's icebergs are born
Visit the site of the famous Greenlandic mummies' discovery outside Uummannaq
Hike gorgeous Arctic landscapes
See the final resting place of the Franklin Expedition
Included Onboard

Category 6 Cabin for 2 aboard the Ocean Endeavour
The expertise and company of our expedition staff
Onboard educational presentations
Interactive workshops, evening entertainment
All shipboard meals, including on deck barbeques and afternoon tea, 24-hour coffee, tea and snacks
Hors d'ouevres and snacks during evening recaps
24-hour documentary and film programming
Fully stocked library
Included Ashore

Introductions to local people and customs
Sightseeing
Museum entries, park accesses, port taxes
Access to pristine wilderness areas
Zodiac tours and cruises
On-site archaeology workshops
Community programming: local performances, presentations, and demonstrations
Thank you to all of our prizing sponsors for contributing to ideacity 2016!